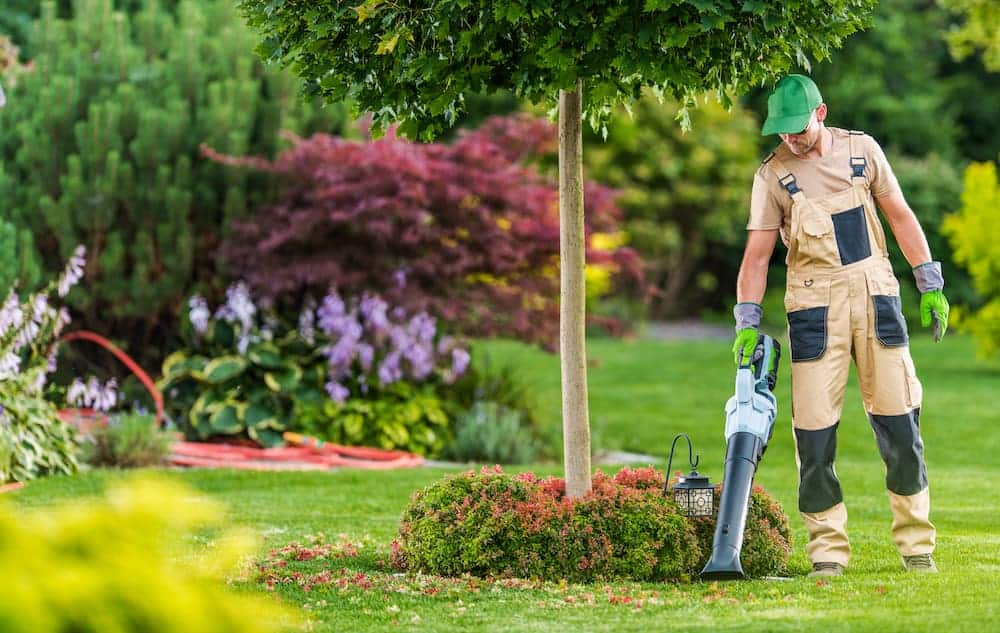 06 Apr

Best Cordless Leaf Blowers for Large Yards 2021 (Reviews and Ratings)
Cordless Leaf Blower Buying Guide
Here at American Lawns, this is by far one of my most favorite lawn care tools. The leaf blower can make cleaning up a breeze. Whether you're removing leaves or grass from your driveway, sidewalk or porch a cordless leaf blower will cut the job in half. There are a few things to think about before purchasing a battery powered leaf blower.
Things to Consider Prior to Purchasing a Cordless Leaf Blower:
If you have a large yard you may be looking for some qualities in your leaf blower that other homeowners may not need. While having a large yard can be a benefit it can also have it's challenges. A large yard can turn quickly from a wonderful purchase to a big challenge when it comes to blowing leaves. Most cordless leaf blowers on the market don't the power to take care of large yard. This causes most homeowner with a large yard to use a gas guzzling backpack leaf blower. With the latest technology in lithium ion batteries you can now utilize a smaller lighter version to blow your large yard and leaves and debris that can accumulate.
Advantages of Having a Cordless Leaf Blower
There are leaf blowers available for many different situations. Some leaf blowers are cordless, and perfect when working in small, compact areas where there is no electrical outlets nearby. If you have a large yard that requires leaf blowing, then the best leaf blower to get would be one with a powerful battery that can last the whole time you're blowing your yard. Cordless leaf blowers can be used for quick clean ups of debris; however, if you want to clear out your whole yard, then you will need a heavy duty leaf blower. Below are some pros and cons of leaf blowers which may help you find the best leaf blower for your situation.
The main difference between leaf blowers is its power source . There are leaf blowers that run on electricity, leaf blowers that run on gas (which requires gasoline), and leaf blowers that use batteries. These leaf blowers all have different advantages and drawbacks in terms of how long they last before needing to be charged or refueled , how much sound they produce, their air speed, and the size of a yard you can clear with them .
Cordless Leaf Blower vs Gas Leaf Blower
Cordless leaf blowers have always been known for doing light leaf blowing jobs around the house and the gas powered leaf blowers have been used for larger jobs. With the advances in the lithium battery technology battery powered leaf blowers have been able to catch up to their gas powered counterparts. Cordless leaf blowers can now run up to 5 miles on a single charge, depending on the model of leaf blower purchased. The higher end cordless leaf blowers, which can be very expensive, do not use gas and produce zero emissions. Cordless leaf blowers are also lighter and easier to handle.
While gas leaf blowers are the most powerful leaf blowing machines, they are also the noisiest. They can have a fuel capacity of up to 1.6 gallons and produce sound levels between 80-100 dB, comparable to cordless leaf blowers. Gas leaf blowers can create an air speed of up to 70 mph with ease, compared to 60 mph or lower from cordless leaf blowers and 40 mph or lower from electric leaf blowers. As far as storing this particular type of leaf blowing machine goes, it should be
Here is our list of large yard leaf blowers that can get the job done:
The EGO POWER+ 580 CFM Large Yard Leaf Blower is the one of the most powerful cordless leaf blowers on the market. It uses a turbine fan with a unique design that even out performs some gas powered blowers. It utilizes a brushless mother to deliver a great run time which is ideal for larger yards and properties. This model is relatively quite and light weight at only 9.6 pounds. The 56 volt ARC lithium-ion battery will give you a lot of power and time to finish the job. The ARC lithium-ion battery can get up to 75 minutes of run time on a single charge!
Review:
I had a Ryobi blower and the battery seriously lasted 5 minutes. It was a nightmare. I received this yesterday and I can't even discharge the battery if I try. I went all over my property and did a year's worth of blowing, and I was so pleased with this blower. The power is amazing, the size is perfect, the weight is not light but it's all in the battery and even for me, a 5'3″ petite woman, it was manageable. Hands-down, it's worth the extra weight to have a better battery and more power. WOW. I can't even explain how great this blower is, you would have to try it for yourself but I am confident that if people saw me with it, they would likely feel quite inadequate with just about any other blower. It's really THAT powerful.
After my struggles with the cheap Ryobi blower, I was very apprehensive about getting another cordless blower – but then I realized, previously, I had bought the cheapest, worst blower available without doing any research. Now, I have probably overcompensated and got a super-powered blower that may not be necessary but I sure enjoy using it – it makes the job easy.
The DEWALT DCBL722P1 Blower, Black/Yellow 20V MAX* Brushless Handheld Blower provides the ability to clear debris with an air volume of up to 450 cubic feet per minute and up to 125 miles per hour with the concentrator nozzle. With a lightweight and ergonomic design, the blower gives users directional control and tackles user fatigue. The variable-speed trigger and speed lock give you full power control.
Review:
I have 8 DeWALT 20 V Max tools, and just purchased this blower… so 9 now. I researched all of the DeWALT cordless blowers, and this one seemed to suit our needs the best. It's significantly less expensive than the 40V or the new 60V FlexVolt blower – and if the job's really big I breakout my Mac Daddy Stihl backpack 340 blower.
I love having a cordless blower so I can roam around our property with hassling with a cord. I REALLY like the speed control on this blower… very sensitive, and I like being able to just squeeze the trigger a little to blow debris away from sensitive areas like flower beds, etc. without blowing the dirt everywhere with too much air.
Zivnia leaf blowers are as powerful as bulkier gas-powered blowers, and are more friendly to environment. With our advanced turbine fan technology and wide air nozzle, Zivnia leaf blower delivers strong and high-capacity air volume, allowing you to clean up quickly and easily. Powerful Copper Motor and Dynamic Airflow Design; Zivnia Cordless Leaf Blower is equipped with a brush-less copper motor that maximizes motor efficiency and durability; The dynamic airflow design ensures a high-capacity air volume that lets you clean up quickly, quietly, with no effort 6-Speed Selection and 2-Section Air Nozzle; Zivnia battery powered leaf blower with 6-speed selection allows you to use it for lawn care, removing snow, dust, debris and numerous other scenarios; And its 2-section air nozzles help you cleanup all hard-to-reach spots and corners with ease
Review:
This blower is very good – when I first opened it, I was a little nervous that it wouldn't be powerful enough BUT when I got it up and running, I was amazed. It's much better than my large, plug-in blower. I can get around my perennials and flowers without a dang cord knocking them down and it's lightweight and still has great power with 6 speeds. This is ideal for a smaller piece of property, as the battery only gives you about 20-30 minutes before the battery dies. (I would recommend buying a second battery). This was the best purchase I've made in a very long time. The battery is long lasting and if I set the blower down, it's easy to find because of the bright color. The 20V Lithium battery takes s while to charge but it will last long enough for most jobs.
Got leaves everywhere? As winds come, fallen leaves lie everywhere: on your lawn, your driveway, roof, gutters and pools. It is clear that there is nothing more effective to relocate wet leaves, pines, mud, snow and heavy debris to more desirable places than a cordless leaf blower. Choose KIMO power and enjoy unrestricted mobility.Thanks to our latest motor upgrade, we managed to realize 150 MPH blowing speed and 200 CFM air volume within this battery-operated blower at a cost that's only 1/3 of other monsters. Who says one needs to sacrifice power in order to be lightweight and easy to maneuver?
Review:
Ok… so here is the deal with this KIMO blower! It is awesome! I have used it for two weeks now just exploring all the possibilities…. and I have determined that it is one useful tool for the box. I have cleaned my storage of dust and debri in record time. I have dried my motorcycle after a good bath. I then cleaned all the debri from in front of my apartment making it look kept and tidy as the rules demand….. all in one charge I might add. I havent drained it to the point of slowing yet. Definitely give this Kimo product a go and you will see for yourself that with its lightweight, long life, and ease of use, that this tool has so many uses beyond the yard. It helped me to completely clean out my vaccume filter with ease and blow away all evidence of the mess right after. Just for fun this morning, I dusted my place of employment in record time. I am loving my KIMO blower and look forward to purchasing more phenominal tools to make my life easier. Thanks KIMO!
Powerful Cordless Leaf Blower: this 40V(Max) brushless cordless leaf blower delivers up to 600 CFM air volume and the up to 185 MPH air speed. Aka motors provide up to 20000 r/min strong power. Gas equivalent performance but no heavy backpack or hassle of cords with lightweight design: 9lbs only with 4 Ah battery attached. 2 Speed Mode & Rapid Charge: leaf blower includes 4.0Ah lithium-Ion battery and charger, fully charge needs only 1 hour, charge indicator shows you how much battery power you have left at all times as well. High-speed mode and low-speed mode allows you to complete variable tasks and blow dust, leaves, or snow effortlessly and conveniently.
Review:
This Electric Variable-Speed Blower is one of the most powerful cordless leaf blowers I have ever had, but it has a price tag to match. This high-end unit has a cleaning power of 600 CFM, and it can deliver speeds up to 185 MPH, helping to move even the heaviest of brush and debris in our yard. The leaf blower also includes a variable-speed control that lets me adjust its output, depending on the job at hand.
The Leaf Blower runs on a high-efficiency brushless motor, and its 40-volt battery can run for a long time on low speed or 15-20 minutes on the turbo setting. The only drawback is, it doesn't come with both flat and tapered nozzles for versatility, and the tool weighs around 9 pounds. In my opinion, this high-end cordless leaf blower works just as well as a gas-powered model, and most agree it is worth the high price.