Easy Ways to Secure Patio Furniture
Our outside living spaces have become an extension of our homes. I love to go outside to sit and relax. Being outside helps me to relieve my stress and take it easy! Our outside space should be a place that we can like with furniture and pieces that help us to enjoy the weather and our surroundings. In having this extension of our living space there are a few things we might have to contend with such as mosquitos, rain, wind, and more.
You've bought great patio furniture to enjoy your outside living area and here comes mother nature with the wind. Wind so strong that you guessed it, your patio furniture wants to blow away!
So, how do you keep patio furniture from blowing away? There are several ways you can keep your patio furniture from blowing away including sandbags, earthquake gel, garden windbreak, heavy furniture covers, stacking furniture near a wall, get heavier patio furniture, tie furniture down, use patio furniture weights, and taking your patio furniture indoors.
No solution works for everyone. Sandbags might work for you while weighted furniture or furniture covers work best for your neighbor. No matter what option you choose, your furniture will stay put and not blow away! So let's talk about the details. How do you know which idea will work best for you? Maybe one, two, or three ways will work for your patio furniture. Read ahead to learn more and keep your patio furniture from blowing away!
Deciding How to Best Secure Patio Furniture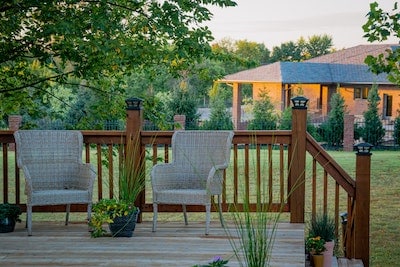 When reading through these ideas think through what is the issue that you want to improve with your patio furniture. Keep your budget in mind as well as your specific type of patio furniture.
Your budget will also determine the ideas that will work best to keep your patio furniture from blowing away. You want your patio furniture to stay put without sacrificing the style and decor of your outside patio space.
Your patio furniture is an investment and you want to find the best solutions to maintaining it and making it last.
Questions to Ask Yourself
There are a few questions you should ask yourself as you determine how you will secure your patio furniture.
From what material is my patio furniture made?
What budget will work well for the amount of patio furniture I have?
What kind of time do I have to secure my patio furniture?
Do I need a solution that allows me to be able to move my furniture when needed?
These are just a few of the things you must consider when determining how you will secure your patio furniture. Some of the solutions mentioned are permanent while others will allow you to have some flexibility.
For example, at my house using earthquake gel would not work since during hurricane season we prefer to take our patio furniture inside of our home. However, having heavy outdoor furniture covers has always been a win for us.
What things do you need to think about for your outdoor living space? Will the type of weather in your region be a concern? Do you have children and must provide a solution that will be child-friendly? The list goes on…You must decide what works best for you!
Best Ways to Secure Patio Furniture
Patio furniture that is not secured can damage your landscaping, your home, or your pool! If your patio furniture damages your pool, you will need to work with a pool service company to repair the damage. To avoid this issue, let's take a look at some of the best ways to secure patio furniture.
Sandbags
Sandbags or canopy bags are great ways to keep your patio furniture from blowing away. Canopy bags may not be as well known as sandbags, but they can fulfill the same purpose. Canopy bags can be filled with sand, rocks, or any other material. They are usually used for canopy tents, but can be used for patio furniture too!

Earthquake Gel
Earthquake gel will affix your patio furniture to the ground. This is close to a permanent solution. It can be messy so you have to be careful during application. You also need to make sure that the gel will work with the surfaces to which you will be adhering your patio furniture. Read the directions to make sure it will work for you and your patio furniture.
Garden Windbreak
A garden windbreak is an easy and good solution for most when it comes to keeping your patio furniture from blowing away. A garden windbreak can be trees, foliage, stones, wood, or any other type of landscaping material. This natural windbreak should be in a place that will block the wind from your patio furniture. This idea might be a solution for you and look like it was a regular part of your decor!
Heavy Furniture Covers
This is a simple solution that can work for everyone. Combining this strategy with purchasing heavier patio furniture is often the easiest solution. You can purchase heavy furniture covers easily online or in-store. They will work to keep your patio furniture in place when you need it.
While heavy furniture covers are a great option, they can prove frustrating if, for example, you wish to barbecue in the rain. In this situation, you would need to remove the nearby covers to prevent a fire hazard.

Stack Furniture Near a Wall
Another simple solution is to stack your patio furniture against a nearby wall. This will allow the furniture to use the surface area of the wall to cause the wind not to be able to lift your furniture and blow it away. The drawbacks to this solution are that you have to stack your furniture away regularly. You will then have to unstack it to use it when needed. This might not be appealing to people who do not want to do that extra work!
Get Heavier Patio Furniture
Here is a simple solution to keep your patio furniture from blowing away, get heavier furniture! Patio furniture comes in so many different styles and materials. Patio furniture often comes in iron, wood, and various types of metals. Stay away from plastic furniture or you are destined to be running after it after the wind blows it away!
Tie Furniture Down with Bungee Cords
This idea will work for all types of furniture. Bungee cords can be used to tie your furniture down to another affixed object nearby. You can tie the furniture down to your home, the ground (if you have posts in the ground), or another object. With this solution, you will have to purchase bungee cords that are durable enough that they can withstand the outdoor elements without breaking.

Patio Furniture Weights
Patio furniture weights are the natural solution that most people might first think of to keep their patio furniture from blowing away. These weights will hold your patio furniture down. You will need to determine the weight you need based on the weight of your furniture and the types of wind your furniture will face. These weights can be purchased online or from your local home improvement store.
Take Furniture Indoors
Lastly, just take the patio furniture indoors. You can simply bring your furniture inside your home or garage. You can even store your furniture in a shed. All of these things will protect your furniture from the wind and elements.
Related Questions
Do I need to build or invest in a shelter or patio cover for my patio set? This is a question you must answer for yourself based on your current outdoor living situation. All of the aforementioned solutions will work for you. However, you might want a permanent solution to keep your patio furniture in place and also enable you to have more use of your patio in all types of weather. This is an investment but it might be worth it for you and your family in the long run.
How do I keep my patio cushions from blowing away? You might not have any issues with the patio furniture itself. However, your fight might be with the patio furniture cushions. Replacing these might not be an easy task if they blow away or fly into your open pool. You can use a few of the suggestions from the article to secure the cushions on your patio furniture. This will be based on the construction of the cushions and your patio furniture set. You may also want to look into purchasing cushion fasteners to keep them secured to your furniture. Ties or velcro are other options that work very well.