Tips for Keeping Your Lawn Green
Ah, summer – the hot, sunny, long days, and the challenges of keeping your lawn green. Talk to any homeowner in the majority of the U.S. and they will tell you how difficult it is to maintain that stunning, full, soft, green grass throughout the entire summer. But, fortunately, there are a few tricks you can try to keep that green color around much longer!
How do you keep your lawn green all summer? If you've decided to take on the lawn yourself rather than hiring a lawn care company, make sure to incorporate these professional tips to keep your yard green and you'll soon be the envy of the neighborhood.
Stay Consistent and Diligent
Mow High – Adjust the Blade Height
Watering – Water Deep and Water Early
Mower Maintenance
Repair Dead/Damaged Spots
Apply Fertilizer
Keep reading to learn more!
Stay Consistent & Diligent
Once the grass starts growing quickly, you must maintain a consistent schedule. Sometimes life gets a little busy and we mow a day later than normal – it's not a huge deal, but it can mess with the growing pattern of the grass.
By mowing on a regular schedule, you help control the growth of the grass – not letting it go crazy or need more water than normal. This schedule isn't only helpful for the grass, but also for yourself. You know that every Monday night in the summer, you will be mowing the lawn.
Obviously, weather can also be a factor, if there's been rain or even drought, but doing your best to stay on a consistent mowing schedule will increase your chances of keeping the yard green throughout the summer.
Mow High – Adjust the Blade Height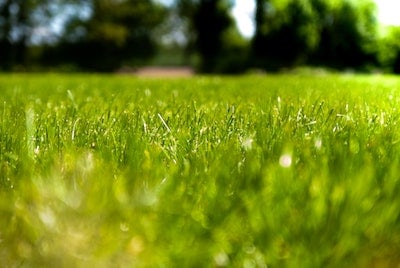 What many people don't know is that there are optimal mowing heights. You can adjust the setting of your mower to cut the grass at a certain height. In the summer, 3 inches is the best setting for your grass.
Although this higher setting may make the grass a little longer than you're used to, it's very helpful for the health of the grass. Taller blades allow for water to soak into the soil and prevent it from drying too quickly.
You'll also find that by keeping the grass just a little longer, it stays fuller and you don't get any dry or barren patches of ground.
If 3 inches doesn't work for your yard or your taste, you can still use some other tricks to try and get the lawn to stay green through the summer.
Watering – Water Deep & Water Early
Of course we all know that one of the most important things you can do to keep the grass green is to water! The trick is, you have to water correctly – and yes, there is a correct way to water.
The term "water deep" can be a little confusing. By watering more often for less time, you prevent the grass from developing a strong root system. If you water deep – less often for longer periods of time, the grass is able to soak in the water and hold it in the roots.
All of this "watering deep" works best if you water early in the morning. Before the sun rises to its full strength, the grass has time to drink it in; unlike watering in the afternoon where the sun evaporates the water before the grass has time to drink it.
The best way to water is with cool to cold temperature water, early in the mornings, and two to three times a week. Try it out and see the immediate difference!
Mower Maintenance
Technology always has its challenges, and mowers are no different. The key to having good technology that lasts is maintaining and updating it when needed. Mowers need maintenance too – especially if you don't want to replace them every few years.
Sharpening the blades, deep cleaning the mower in the off-season, checking for anything loose or out of place – all of these steps can increase your efficiency and create a better-looking lawn. Cutting the grass with dull blades can cause plant stress, which messes with its growth, as well as the appearance of the lawn.
Maintaining your mower, either by checking it over by yourself or taking it to a professional, is less costly than you would imagine and it helps create a better-looking lawn.
Repair Dead & Damaged Spots
The truth is, going an entire Spring-Summer season with a completely healthy and green lawn is difficult – as you might know. This is why whenever you see a brown patch appear or notice an area is getting too dry, don't hesitate to fix it!
Taking the time to water a specific area or spread a special growth mixture in a problem spot is important, not only for appearances but also for the health of the rest of the grass. You should also make sure that there isn't a bigger problem that's causing the dead spot (insects, animals, etc.).
Apply Fertilizer
Creating a healthy lawn starts in the off-seasons. The fall can be rainy, the winter can be harsh, but there are still things you can do to promote healthy growth – apply fertilizer! It is extremely cost-effective to pay for a professional to come out and fertilize your lawn at specific times during the year. And if you don't want to pay a professional, you can do it yourself!
There are countless different types of fertilizer that you can find at your local home and garden store, or go to online retailers to find the specific kind you want. It's not a difficult process, it's relatively inexpensive, and it does not require a lot of time.
If you choose to apply fertilizer on your own, be sure to follow the manufacturer's instructions. There are chemicals involved in fertilizers, so you want to be sure that you apply them correctly and safely.
Related Questions
When is the best time to cut your grass in the summer?
The best time of day to mow your lawn is in the evening when the sun is down. There are two reasons for this:
Mowing in the evening helps keep moisture in the roots while the blades are long
Evening mowing gives grass about 12 hours of shade before the next sunrise, giving it time to heal
You don't want to mow first thing in the morning for a few reasons as well:
Morning is the best time to water and if the grass is wet, it's more likely to be unevenly cut
Wet clippings can get caught in the lawnmower, which can clog the mower as well as cover the healthy grass
Grass can tear from the ground easier when it is wet
All this being said, it is best to mow in the evenings and water in the mornings. It is not only for the health of the grass but also for your safety. Mowing wet grass can also be a hazard to you because it can be slippery and cause falls.
Is it better to mow before or after rain?
You don't want to mow when the grass is wet, however, sometimes it can be necessary – especially if you live in an area that receives a lot of rain during the summer. Some experts say mowing wet grass after rain is better than letting it grow too tall and mowing when it's dry.
If you cut the grass on Monday and are expecting a lot of rain through the weekend, it might be better to cut it again on Friday. Make sure to check the height of the grass and don't cut it too short – you want it to stay as healthy as possible.