Summertime is here. Having those backyard parties is essential. At those parties it gets hot and people get thirsty, serving your guests the best tasting beverages is essential. It is easy to answer an outdoor bar will cost to build anywhere from $1,000 or less to $10,000.00, but while considering the cost you need to decide on if the bar will have electricity. Will it be a wet or dry bar? These important choices need to be made first.
What Is The Cost Of Building A Outdoor Bar?
Depending on whether it's a wet bar or not, building a patio bar might cost $1,000 to $10,000 or more. A simple bar with a tabletop may set you back as little as $1,000 for the handyman if built yourself. Depending on the quality of the materials used and other factors, including labor rates and whether you're adding features like a sink or fridge, a more complex patio bar could cost $10,000 or more.
Get Your Basic Plan Together
If you're planning to use your patio bar for parties and other events, be sure to factor in the costs of running electricity out of the structure. When deciding on the size, style, and materials for your patio bar, it's important to keep your budget in mind.
If you're working with a limited budget, consider a small bar with a tabletop.
You can also save money by using recycled materials or repurposing items you already have, like an old dresser or cabinet.
If you have more to spend, consider adding features like a sink or fridge.
If you're building a bar on your patio or deck, you'll want to choose materials that complement the space.
If you have a stone patio, consider including some stones in the bar construction.
Similarly, if your standard pressure-treated deck has cheap granite countertops, installing an expensive teak bar with granite or other high-end tops won't provide the desired look.
How About A Bar That Is Already Made?
The cost of a pre-made home bar ranges from $800 to $6,500. Add $200 to $500 for shipping and professional installation. The prefabricated unit prices do not include sinks or electrical outlets.
You'll have the option of several prefabricated pieces:
Bar With Seats
Wall Bar
Mini-Bar
Bar Cart
The cost of a pre-made bar varies widely, depending on the features you want. A pre-made bar might range in price from $200 to $7,000, depending on the amenities. When factoring in shipping and installation fees, don't forget to consider how much it will cost to add electrical outlets and plumbing if you opt for a wet bar.
Should I Hire a Pro Or Do It Myself?
When you are installing a pre-made bar and there is not a lot of installation, installing it yourself is not a bad idea. Custom work is where the challenge is.
If you have experience in that area knock yourself out.
Having friends over is not the time to take a chance on something falling apart and hurting someone.
If you are like most people hiring a contractor is a good idea. You will also need an exterior designer or architect.
The fees can vary these are rough estimates:
Architect
ExteriorDesigner
Finishing Carpenter
How Do I Make An Outdoor Bar On A Budget?
The greatest approach to creating a budget-friendly home bar is with a window bar. These pass-through openings, sometimes known as servery windows, allow for great outdoor gatherings.
You need to buy wood brackets from the local hardware store and match the wood brackets to the exterior color of the house.
While you are at the store also get a 2×6 wood board cut to the dimensions of the window you have chosen.
Paint it to match the color of the frame of the window.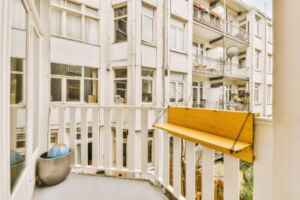 After the paint dries, add L-brackets to the window frame and use them to attach the wood board. Attach board and brackets with 1 1/2-inch screw.
Now you're ready to install your new window bar!
Start by attaching the brackets to the exterior of the house using screws. If necessary, use a drill to create pilot holes for the screws.
Once the brackets are in place, lift the bar into position and attach it to the brackets using screws.
To make sure the board is secure, add washers to the screws on the inside of the window. Your bar is complete!
Information To Consider Before Getting An Outdoor Bar
When you are deciding on adding an outdoor bar, here are some questions to think about:
How Much Value Does My New Outdoor Bar Add To My Home?
Patios are a popular feature in most homes, making them a desirable extra when it comes to rapidly selling a property. The cost of constructing a patio may range from $5,300 to as much as $5,900 depending on the size and materials utilized. That said, well-designed patios are estimated to increase home values by 8-10%.
How Much Use Will I Get Out Of My Outdoor Bar?
Most people who have installed an outdoor bar find that they use it more than they originally thought. If you entertain often or are looking for a reason to spend more time outside, an outdoor bar may be perfect for you.
How Much Maintenance Is Required For An Outdoor Bar?
One of the benefits of an outdoor bar is that they require little upkeep. If you choose materials that are easy to clean and maintain, your bar will last for years with little effort on your part.
What Materials Should I Use For My Outdoor Bar?
There are a variety of materials you can use to construct your outdoor bar. Common choices include wood, stone, brick, and concrete.
If you are looking for a low-maintenance option, consider using composite materials that require little upkeep.
When it comes to finishes, staining or painting your bar is a personal preference.
If you opt for a natural wood finish, be sure to seal the wood to protect it from the elements.
No matter what materials you choose, be sure to consult with a professional to get the best advice for your particular project. Adding an outdoor bar to your home can be a great way to entertain guests and enjoy the outdoors. With a little planning and the right materials, you can create a beautiful and functional bar that will last for years to come.
What's the difference between a wet bar and a dry bar?
A wet bar and a dry bar are designed to make entertaining at home more convenient. It's a part of your house, usually with a big counter or bar, where you can mix drinks and store your various kinds of liquors, beverages, and mixers.
A wet bar is a bar that has a running water sink, while a dry bar has a location where you may prepare drinks but no sink.
The only significant difference between them is that a wet bar necessitates the use of special equipment, whereas a dry bar does not.
They both have advantages and disadvantages; these should be considered before making any decisions.
Wet bars are, for the most part, used in homes where people entertain often.
If you have a lot of parties or gatherings, then a wet bar is probably right for you.
The biggest advantage to having a wet bar is that it allows you to make drinks quickly and easily.
You don't have to worry about getting water from the sink because it's right there.
If you're making a lot of drinks, you can just leave the water running.
A wet bar is also great if you have limited space because they take up less room than a full kitchen.
How do I know if an outdoor bar is the right addition to my home?
An outdoor bar is a popular entertaining space in many homes. If you enjoy hosting parties or hosting large gatherings, then an outdoor bar may be a great addition to your home.
Additionally, if you have a pool, an outdoor bar can be a great place to relax and cool off in the summertime.
However, if you live in a climate that experiences extreme weather conditions, then an outdoor bar may not be the best option for you.
If you do not have a lot of space in your backyard, then an outdoor bar may not be the right fit for your home.
Conclusion
Building your new outdoor bar can be a fun and rewarding experience. It can also be a great addition to your home, adding value and curb appeal. You will have many memorable times entertaining family and friends.
When deciding if an outdoor bar is right for you, consider the cost, the value it will add to your home, and the climate in which you live. With a little bit of planning and effort, you can build the perfect outdoor bar for your home. You are building this because you would enjoy it not because it increases the value of your home but because you are going to use it.