Chiminea Vs Fire Pit
A staple of outdoor entertainment during the cooler months is a warm fire by which your guests can gather. If you have an outdoor space and enjoy entertaining guests, you may have considered adding a fire feature such as a firepit or a chiminea to your yard at home. There are plenty of reasons to consider an outdoor entertaining space for your next party or gathering. For one, it gets you and your guests out of the house and into the fresh air. And, depending on the size of your yard, an outdoor entertaining space can accommodate a larger crowd than your indoor living area. So, if you have decided that a fire feature is right for your outdoor space, you might be wondering how do a chiminea vs. fire pit stack up in terms of their differences.
A Chiminea is made of clay and has an opening in the front for placing wood logs and a chimney or flue in the rear for ventilation. While a fire pit is typically much larger than a Chiminea and made of either metal or stone. Also, firepits have a lid instead of a front opening, as well as a larger flame that could be used to cook food.
In this blog post, we will be discussing the differences between a chiminea and a fire pit in greater detail so that you can decide which one is right for your home, as well as give you some maintenance tips and tips for setting up the perfect outdoor entertaining space.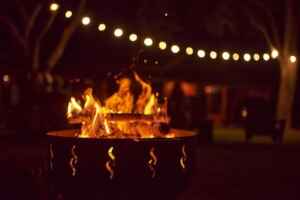 What Is a Chiminea?
We will begin by discussing chiminea and its features. A chiminea is a type of wood-burning stove. It is typically used for cooking or heating, but can also be used for decorative purposes. Chimineas are usually made from clay or metal and are designed to withstand high temperatures.
Chimineas have been used for centuries, and their popularity has grown in recent years. They are a popular choice for outdoor living spaces, as they can provide both warmth and ambiance. Chimineas come in a variety of sizes and styles, so there is sure to be one that fits your needs.
If you are looking for a unique way to heat your home or add some flair to your patio, a chiminea may be the perfect solution.
How to Maintain Your Chiminea
Regular maintenance of your chiminea is important.
Here are a few tips on how to keep your chiminea in great shape:
-Make sure the flue is open when you light a fire in your chiminea. This will help ensure that smoke does not enter your home.
-Be sure to clean out the ashes after each use. Ashes can accumulate and cause problems if they are not removed regularly.
-If you notice any cracks or damage, be sure to repair them as soon as possible. Cracks can allow water to enter and cause rusting or other damage.
With just a little bit of care, your chiminea will provide you with years of enjoyment!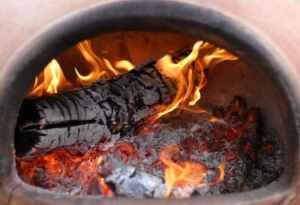 What Is a Fire Pit?
A fire pit is a structure that contains a fire and is used for recreation, cooking, or warmth. Fire pits are typically made of metal, stone, or brick. The most common type of fire pit is the wood-burning fire pit. These pits are usually built in backyards or on patios and decks. They come in a variety of shapes and sizes and can be custom-built to fit your space.
Wood-burning fire pits require regular maintenance, including cleaning out the ashes and embers, to prevent build-up that could lead to a dangerous situation.
If you're looking for a more low-maintenance option, you might want to consider a gas fire pit.
How to Maintain Your Fire Pit
Regular maintenance of your fire pit is important for two reasons: safety and aesthetic appeal. A fire pit that isn't properly maintained can be a safety hazard, and let's face it – an ugly fire pit just isn't as fun to use.
Here are a few tips for maintaining your fire pit:
– Remove ashes regularly. Ashes can build up and make your fire pit less efficient. Plus, they're just plain messy. Use a shovel or scoop to remove ashes after each use.
– Clean the inside of the fire pit with a wire brush. This will help remove soot and debris.
– Apply a layer of fresh sand to the bottom of the fire pit. This will help protect the metal from high temperatures and make cleaning up ashes easier.
– Cover your fire pit when it's not in use. A cover will protect it from the elements and keep animals out.
If you follow these simple tips, your fire pit should stay in good condition for years to come!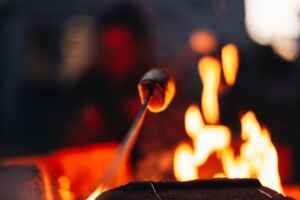 Reasons to Have a Fire Feature In Your Backyard
There are many reasons why a fire feature can enhance your entertainment space.
First, having key focal points in your space give guests places to naturally gather and mingle. If guests are given a few different options for focal points around which to gather, your entertainment time will flow more smoothly and organically.
Secondly, a fire feature is helpful during the cooler months because it expands your entertainment space from inside to outside. This gives you more options for areas where your guests can stand and sit.
Finally, fire features are aesthetically pleasing and lend a sense of warmth and light to your entertainment areas.
Outdoor Living Space Tips
In order to get the most out of your outdoor living space, we've included the following tips to help you plan, arrange, and maintain the perfect entertaining area for your guests.
1. Find the Perfect Spot
When it comes to outdoor entertaining, location is everything. You'll want to find a spot that's comfortable for both you and your guests, has enough space for everyone to move around freely and offers some protection from the elements. If you're lucky enough to have a large backyard, try setting up your space near a pool or garden area. If your yard is on the smaller side, get creative with your seating arrangement to make the most of the space you have.
2. Create a Cozy Ambiance
Once you've found the perfect spot for your outdoor entertaining area, it's time to start thinking about ambiance. String some fairy lights around trees or patio umbrellas, arrange citronella candles around the perimeter of your seating area, and consider investing in a fire pit or outdoor fireplace to keep things cozy on cooler nights.
3. Set the Table
You will need to have a place for your guests to sit and enjoy their food. If you're having a more formal gathering, set a beautiful table with place settings, a centerpiece, and all the fixings. For a casual get-together, try setting up a buffet-style spread with all of your favorite dishes. Also, Be sure to have plenty of ice on hand to keep things cool, and set up a self-serve bar so your guests can help themselves.
4. Keep Things Cool
When the temperatures start to rise, it's important to keep things cool for both you and your guests. Set up a few fans around your outdoor space to help circulate the air, and make sure there's plenty of cold water and iced tea on hand. If you have a pool, now is the time to break it out! Encourage your guests to take a dip to cool off, and be sure to have plenty of towels on hand.
5. Make a Plan for Pests
No matter how well you prepare, there's always a chance that pests will crash your party. Be sure to have citronella candles or torches lit around the perimeter of your space to help keep mosquitoes away, and set up a bug zapper if you're expecting a lot of guests.
6. Have Fun!
At the end of the day, the most important thing is that you and your guests have a good time. Relax, enjoy the party, and make some memories!
Chiminea Vs Fire Pit Conclusion
Both a Chiminea and a Fire Pit are excellent choices for adding warmth and atmosphere to your outdoor living space. Whatever fits your home best depends on the size of your space and the type of fire experience you are looking for. Whether it's a Chiminea or Fire Pit, adding either one to your outdoor living area will help create an inviting atmosphere that you can enjoy all year round. Thanks for reading our Chiminea Vs Fire Pit article!