Great Lawns Deserve A Great Mower
Having a great-looking lawn is important for any homeowner, and having the right tools on hand to maintain it is essential. A good lawn mower can make all the difference when it comes to keeping your grass looking lush and healthy. So, where are the best places to buy a lawn mower?
Some of the best places to buy a lawn mower include home depot, lowe's, amazon, sears, and your local hardware stores. You will find the most options at home depot, lowes, and amazon, but it is always great to support your local community at a local hardware shop.
So, now that you have an idea of where the best places to buy a lawn mower are, let's look take a look at what you need to consider before buying one, the features, what's best for your lawn care, and more!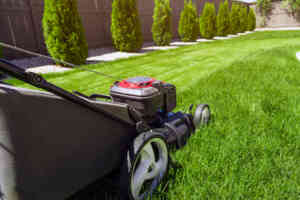 What Are The Top Places To Get A Lawnmower?
When it comes time to purchase a lawn mower, you have many options. From online stores to brick-and-mortar shops, there are plenty of places where you can find the perfect lawn mower for your needs. To help you make an informed decision about what store to buy from, we've compiled a list of the best places to buy a lawn mower.
Home Depot
Whether you're looking for a top-of-the-line riding mower or just a basic push model, Home Depot has something that will fit your budget and meet your needs. They carry major brands like Husqvarna and Toro as well as smaller manufacturers such as Craftsman and Snapper. Plus, they have knowledgeable staff that can help you make the right choice.
Lowe's
Another great option for buying a lawn mower is Lowe's Home Improvement. Like Home Depot, they carry all of the major brands and offer competitive prices on both push and riding mowers. They also provide helpful advice from their staff to guide you through your purchase.
Amazon
For those who prefer online shopping, Amazon offers an extensive selection of lawnmowers from brands like Husqvarna and Cub Cadet at reasonable prices. Plus, with Prime shipping options available for most items, you don't have to wait long after placing your order before your new mower arrives at your doorstep.
Sears
For those looking for a more traditional shopping experience, Sears is the place to go. They carry all of the major brands like John Deere and Craftsman and have knowledgeable staff on hand to assist with your purchase. Plus, they offer competitive pricing and often run specials on mowers throughout the year.
Local Hardware Stores
Finally, for those who prefer supporting local businesses or entrepreneurs, there are plenty of small hardware stores around that sell quality lawnmowers at reasonable prices. The advantage here is that you get personalized service from the owner or staff while also getting a good deal on your purchase.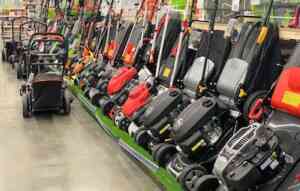 No matter which option you choose, you can rest assured knowing that these stores offer quality mowers at competitive prices and knowledgeable staff to help you make the right choice. So, when it comes time to purchase a new lawn mower, consider one of these five stores for your needs.
Things to Consider
With so many different types of mowers available on the market, choosing one can be overwhelming. Here are some tips to help you decide which type of lawn mower is right for you:
Consider your budget – When shopping for a lawn mower, think about how much money you're willing to spend. There are plenty of options at all price points, so finding something that fits within your budget should be relatively easy.
Think about size – If you have a smaller lawn, you can get away with using a basic push mower. However, if your yard is on the larger side, then you'll want to invest in something more powerful like a riding mower or robot mower.
Consider convenience – If you don't have a lot of time for maintenance, consider investing in an electric mower or one that has self-propelled capabilities, so you don't have to do as much pushing and pulling.
What Are The Best Features To Look For?
In 2023, a good lawn mower should have the following features:
Automation – A lawn mower in 2023 should be able to operate itself using artificial intelligence and automation technologies. It can detect obstacles on the ground as well as soft grassy areas that might need extra attention, and adjust its speed accordingly.
Environmentally-Friendly – Another important feature is that it should be eco-friendly, powered either by electricity or an alternative renewable source of energy like solar. This will reduce your carbon footprint while doing your lawn maintenance work.
Versatility – The ability to perform multiple tasks is also essential for a good lawn mower in 2023; from cutting and trimming grass to mulching leaves, it should be able to do a variety of tasks with ease.
Smart Sensors – Smart sensors are important too. They can sense the quality of the ground and adjust their speed accordingly. For example, if your lawn needs extra attention in some areas because of harder soils or roots, then the mower should be able to detect this and adjust its blades accordingly for optimum performance.
Technology-Enabled – Finally, a good lawn mower in 2023 should also come with technology-enabled features like GPS tracking or voice control capabilities, so you can easily manage it from anywhere that has an internet connection. This will make maintaining your lawn much easier and more efficient than ever before!
These are just a few of the features you should look out for in a good lawn mower.
The Top Push Mowers
When it comes to choosing the best push mower for small lawns, you want a model that offers both reliability and power. To help you find the right one for your yard, we've rounded up the top-rated models available today.
Honda HRX217VKA.
This gas-powered mower offers an array of features, from its powerful 190cc engine to its twin-blade MicroCut System. It also has adjustable cutting heights and a large 21-inch cutting deck for maximum efficiency when tackling smaller spaces. You can even add on optional accessories like bagging systems or mulching kits for added convenience.
Briggs & Stratton Smart-Fill Lawn Mower
This model offers a unique, mess-free way to fill the mower with oil. All you have to do is attach the included hose and canister, fill it up, and push a button to start the process. The mower features an 1150 series engine for reliable power, as well as ergonomic design features like a soft foam grip handlebar.
EGO Power+ LM2100SP
For a quieter option, this is an electric model that offers whisper-quiet operation thanks to its 56-volt Lithium-Ion battery. It also features a 21-inch cutting deck and offers adjustable cutting heights, giving you plenty of control over how your lawn looks. Plus, it has a 3-in-1 mulching, bagging, and side discharge capability so you can tackle any job with ease.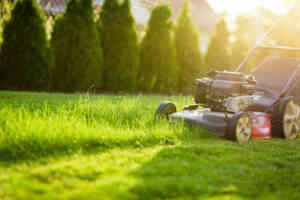 The Top Five Riding Mowers
When it comes to large lawns, you need a riding mower that is up for the job. But what are the top riding mowers for large lawns? Here's our list of the best picks.
Husqvarna Z254 Zero Turn Riding Mower
A great choice if you have a large lawn. It's powerful enough to tackle any job, and its zero-turn feature makes it easy to maneuver around tight corners and obstacles in your yard. Plus, its 54-inch cutting deck gives you plenty of room for cutting larger areas quickly and efficiently.
John Deere E180 Lawn Tractor with 25HP V-Twin engine
This mower has an impressive 7.5 acres per hour mowing capacity, making it perfect for large lawns. Its comfortable seat and ergonomic handle make it easy to use, and its six-speed transmission makes it great for tackling hills and uneven terrain.
Craftsman T230 Lawn Tractor with Turn-Tight Technology
This powerful mower has a 24HP Briggs & Stratton engine and a tight turning radius, making it great for navigating obstacles in your yard. Plus, its 42-inch cutting deck gives you plenty of room for cutting larger areas quickly and efficiently.
Get The Best For Your Lawn
Purchasing a lawn mower is an important decision as it will have an impact on the health and appearance of your lawn. With this list of top five stores to buy from, you can be sure to find the perfect mower for your needs at a price that fits within your budget. Shop around and compare prices between stores before making your final decision so you get the best deal possible!