Tips for Making a Perfect Lawn
At first glance, your lawn might appear to be a lush, green carpet of grass. You may think to yourself, "My lawn looks great. There's grass growing, right?" However, upon closer inspection, you'll notice that it is both brown and full of weeds.
Weeds are the bane of every homeowner's existence. Their prevalence causes them to be one of today's most widespread crop problems. They have plagued gardens, flower beds, yards, and even public parks.
However, despite their ubiquity, researchers have yet to discover the root cause of these stubborn plants. One day there are just weeds everywhere with no explanation as to why they're there or how they got there in the first place; the next day, there are none at all!
Today, we are sharing nine tips for making your lawn perfect and free of weeds. These tips include: 
Knowing what to look for.
Know how to kill your weeds.
Be patient.
Pull the weeds.
Get rid of dead weeds.
Seed your lawn instead of using sod. 
Water and fertilize your lawn.
Maintain your yard.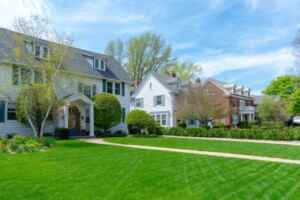 Under normal circumstances, healthy plants can fight off pests and weeds because they have an innate defense mechanism in place. In Spanish, this defense mechanism is known as resistance, or "Resistencia". Resistant plants can fight off invaders by releasing chemicals into the soil to prevent weeds from attacking their roots.
Whatever the cause is, the fact remains that you want to take care of your lawn and fight against the weeds. And the best time to do something is now. If your lawn could use a little changing, there's no need to wait until next year.
Doing it today saves you the stress of having piles of work left for tomorrow and clears up your free time so you can relax later.
Get Rid of Weeds In Your Yard
What doesn't sound nice are those unwanted pests to your beautiful yard – weeds. Thankfully you don't have to let them defeat your lawn. Here are nine tips to keep your lawn beautiful and weed-free so you can enjoy it throughout the year.
As we get started, make sure that you have the supplies needed before starting a large project like this. Ensure you have the appropriately sized shovels, fertilizer, weed-killer, and grass seed needed to make your lawn beautiful again.
Now, let's take the steps to bring back your lawn.
1. Know What You're Looking For
It sounds fairly obvious, but you must know what the types of weeds are in your lawn so you can properly weed them out.
Make a list of the types of weeds in your lawn and look up how to identify the type of grass that you have. Knowing this will help you when to seed your lawn. For example, if you have Bermuda grass, you'll want to seed it in late spring.
2. Know How to Kill Your Weeds
You can easily create your natural weed-killers. Combining vinegar, salt, and liquid dish soap in a spray bottle will create a mixture that, if sprayed during warm sunny days, will cause weeds to shrivel up and turn brown.
If you prefer, there are natural weed killers available for purchase at some home-improvement stores.
3. Be Patient
Sometimes, it can be hard to wait when you see your yard in such a state. Patience is the key, and you can easily avoid having to irritate yourself with extra work later.
Depending on the type of weed treatment you choose, you may need to wait for up to four weeks. You can ask your local garden center for more information when you purchase the treatment or even if you are looking for some more tips.
4. Pull the Weeds
You have two options, if needed when it comes to removing the weeds in your lawn. The first option is digging out the weed from its roots.
When doing this, make sure that you're not damaging any grassroots while you're pulling up. Start by clearing away any overgrown plants on the edges of your lawn. Weeds that are closer to your lawn can be cut down or dug up with a shovel.
If you wish to use herbicide, be sure to apply it during the fall season, when weed seeds are most likely to be dormant.
5. Get Rid of the Dead Weeds
Now that you've pulled your weeds, it's time to dispose of them properly. Weeds that are pulled in your lawn are just asking for diseases to be brought into your yard.
Bagging all of the dead weeds in plastic bags is the best way to dispose of them, but if you would prefer not to do that or don't have enough bags around, make sure they are cut up and removed from your property.
Throw any dead weeds away in a closed container with a lid and leave them out of the reach of children and pets.
6. Aerating is Key
Did you know that your lawn needs to breathe? Yes! It does! Sometimes soil becomes too dry, and your grass is stressed to the point that your yard can puddle up with even the small rain shower. That's when you know you need to aerate.
Aerating is the process of poking millions of little holes in the soil so that you give your yard the chance to breathe and allow the necessary nutrients to set into the soil.
Don't worry; you don't have to do it by hand. You can buy or rent an aerator, or you can call a lawn care company to perform the service.
7. To Seed or Sod
That is the question many people often face. To seed means seeding your lawn with grass seed, which you are probably familiar with. Sod means putting down new patches of grass.
When sod is put down, it provides a lush, green lawn right away without having to wait for it to grow in. Sod is mostly used when sod replacement is needed.
Think about how much time you have – if you need a quick fix for your lawn, then seeding may be the route to go. Seeding means that grass seed will be spread onto your lawn and watered regularly until it grows into a full-blown.
Many go with laying seed. It may take a little more time, but it's the safest option because you'll know your lawn will be safe and healthy.
8. Water and Fertilize
Your lawn needs to be watered and fertilized regularly to stay healthy. Be sure to water your lawn at least once every five days and more often during dry temperatures (which can happen especially through the summer months).
If you don't fertilize your yard, the roots of the grass will weaken, which results in a stressed-out lawn. You want to avoid this because the last thing you want is a stressed-out lawn. For best results, do not water your lawn for two days before fertilizing it.
9. Maintain Your Yard
How do we do that, you ask? Well, here are some things that you should incorporate in your lawn care and maintenance.
Mowing regularly – It's important to keep your lawn mowed and edged. This ensures that you have a great-looking yard and reduces the risk of having a weed infestation in the future.
Raking regularly – leaves on your lawn create thatch, which can suffocate your grass. It's best to rake regularly and dispose of the dead grass clippings in a compost pile.
Trimming hedges regularly – Keeping up with trimming your bushes creates a clean look for your yard and ensures that you have a great view from your window.
Aerating regularly – Again, this keeps your grass healthy and reduces the risk of having a weed infestation in the future.
Watering regularly – This is mentioned again because it's true! Your lawn needs to be watered regularly so that you can avoid weed infestations. Know when it's time to water. If you feel as if there is too much moisture on your lawn, then the chances are that your grass might have too much. You'll want to feel the soil to see if it's soaking in the water.
Weed regularly – After a time, weeds can invade your yard. If this happens, make sure you are regularly pulling them out of your yard.
You've followed all of the steps to make sure your lawn is weed-free and good to go, but remember that the biggest key to keeping your yard beautiful and pristine all year round is consistency. If you notice that you're not as consistent as you thought, then it's time to revisit these steps and make sure that they are followed. Your lawn will thank you for it.
With all of the steps mentioned above, your yard will look fantastic, and you'll also be able to enjoy that relaxation we talked about earlier. Yes! Relax while enjoying the beautiful lawn you have made perfect.