The Ultimate Guide to Grass Options for Sandy Soil
Do you dream of the perfect lawn but struggle to work with sandy soil? While it's true that sandy soil poses some big obstacles to obtaining your dream lawn, there's nothing that can't be overcome with the right tools in your gardening tool belt. Along with proper care and maintenance, it's also important to know which types of grass will grow in sandy soil.
So, what types of grass grow in sandy soil? The best types of grass for sandy soil include Zoysia, Bermuda, Bahia, St. Augustine, Centipede, Kentucky Blue Grass, and Fescue. You will need to select a variety of grass that also agrees with the climate in which you live.
Before beginning the process of selecting grass seed for your sandy soil, keep in mind that growing a beautiful lawn takes time. Normally, it takes about one to two months from day one of the process, and about three months before you are able to achieve the lawn of your dreams. Remember that growing grass from seed takes time. If you have patience and use diligence in applying all available tools, you will be able to see your dream lawn before your eyes.
How Are Sandy Soils Classified?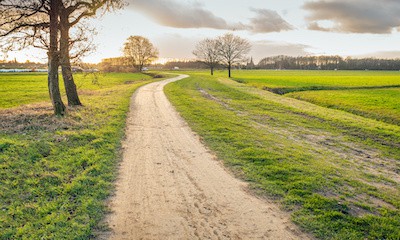 Sandy soils are classified as soils with more than 35% sand and are commonly known as "light soils" and are good for growing fruit trees. It is generally challenging for most grass types to grow in sandy soil due to the air pockets created by the irregular and round sand particles. Without the right grass, the consistency of sandy soil allows water to drain too quickly preventing your grass from growing into the lush green lawn you desire.
Sand particles create air pockets in the soil decreasing its moisture and nutrient holding capacity. It is somewhat challenging for the majority of grass types to grow in sandy soil. However, there are certain grass species which are well adaptive to it. The list of best warmer climate grasses for sandy soil includes Zoysia, Bahia, Bermuda, and St.Augustine in warm climate zones. Cool zones include Fescue grass and Kentucky Bluegrass. Growing grass in sandy soil needs a typical set of gardening steps to achieve lush grass for the lawn.
While the area in which you live determines the type of soil that is present in your yard, there are steps you can take to improve sandy soil.
Warm Climate Grasses
If you live in a warm climate with sandy soil, the following types of grass will provide you with the best results.
Zoysia Grass
Ideal for those who live in the southeastern region of the United States, Zoysia Grass flourishes in porous sandy soil and clay soil. Zoysia has a deep root system that allows it to grow near beaches where the soil drains quickly. It also does not require an abundance of water allowing it to withstand even the toughest drought conditions. Although Zoysia grows better under full sunlight, it can grow in the shade as well.
While Zoysia is resistant to weeds, it will spread slowly unless fertilized with a fertilizer rich in nitrogen and phosphorous. When you are ready, you can purchase Zoysia Grass as plugs (small clumps of grass normally planted into small holes in the ground) and speed up the growth process by spreading Zoysia seed between the plugs.
Out of all the types of grass available, Zoysia is one of the first to makes its appearance in the spring. Though slow-growing, Zoysia will give you a lush hardy lawn that maintains it's green color longer than other grasses. Even dormant, Zoysia maintains a pleasing golden brown color. Unfortunately, Zoysia does brown a little too quickly after the first frost of the season. However, come springtime, it bounces back into a bright green.
The first Zoysia cultivar (plant varieties developed through a process of selective breeding) was Amazoy. Amazoy plugs grow well in sandy soil because the roots are able to penetrate the air spaces in the soil and develop quickly.
Bermuda
Bermuda Grass is similar to Zoysia in that it loves sunlight and stays green longer than it's competitors. However, unlike the Zoysia, Bermuda grows quickly. Bermuda Grass is a thick, dark green grass, Bermuda Grass originated in South Africa, migrated to South America, and eventually found its way to North America. Bermuda can survive periods of low rainfall and flooding. It is a versatile turf grass that thrives in clay soil and also works well with sandy soil because it requires ground that drains well.
While Bermuda Grass requires less water than cold temperature grass types, if your lawn has a lot of shade, it best for you to consider an alternative type of grass. Both the Yukon Bermuda Grass and Riviera Bermuda Grass varieties have a minimal risk of winter kill. Some varieties of Bermuda grass are known as the best grass for bare feet.
Bahia
Frequently used across the Southeastern United States, Bahia Grass does not require much in terms of water and fertilizer. It's extensive and deep root system allowing it to spread quickly in sandy soil. Bahia's root system is also extremely resilient allowing it to grow well in sandy soil. Bahia Grass, unlike Zoysia and Bermuda, has an open growth pattern making it less dense than the others. It works well for large lots where appearance is not a priority. 
If appearance is a priority for the space you are working in, you may want to try mixing Bahia with other grass types such as Zoysia or Bermuda. You may also try mowing regularly to help spread the seeds across the lawn. You'll also need to water the grass more frequently if a dark green lawn is important to you. Argentine Bahia has a darker green color and provides a denser, more aesthetically pleasing lawn.
Centipede
Centipede Grass is a turfgrass originating from China and Southeast Asia which earned its name from its stolons which resemble centipedes. Centipede eventually made its way to Hawaii and has become Hawaii's standard grass type. It can also be found across the southern United States.
Centipede Grass is a warm-season grass that forms sod. It has a coarse texture and weaves itself together into a thick carpet. Like Bermuda Grass, Centipede Grass requires sunlight and is perfect for sandy, acidic soil. Bermuda is also low maintenance, requiring very little mowing and fertilizing.
Cool Climate Grasses
If you live in a cool climate with sandy soil, consider these varieties of grass:
Kentucky Blue Grass
Native to Europe, Asia, and the mountains of Algeria and Morocco, Kentucky Blue Gress is also known as "smooth meadow-grass" and "common meadow-grass." Though generally found in highly fertile soil, Kentucky Blue Grass can be added to sandy soil if fertilizer and water are added regularly especially in the summer.
Kentucky Blue Grass is a creeping and tall growing grass averaging around twelve to twenty-eight inches in length. It's broad, blunt leaf structure allows it to form thick, dense mats as it grows. Kentucky Blue Grass can grow in partial to full sun and is highly drought tolerant.
Fescues
Fescues are a very hardy, self-sustaining grass that can grow in both shade and sun but thrive in areas with little sunlight. Though found in all continents except Antarctica, this type of grass grows well in sandy soils found in cooler climates making it ideal for states in the pacific northwest, northern midwest region, and New England area.
Of all the cool-season grasses, Fescue is an evergreen grass type with a deep root system allowing it to thrive in a variety of soil conditions and without much water. It is often used to fill empty patches of lawn due to its density. It grows well in the shade and made be used for ornamental purposes, turfgrass, or highly nutritious animal hay.
The three types of Fescue Grass are Tall Fescue, Hard Fescue, and Red Fescue. 
A bunching grass, Tall Fescue is a great grass to use when filling in bald patches on your lawn. It has a light green color and grows well in northern climates. Tall Fescue is also known for thriving in shaded areas.
Hard Fescue Grass grows very slowly requiring very little mowing and maintenance. Creeping Red Fescue is the most popular of the Fescue grasses. It's a very low maintenance, slow-growing grass that takes well to slightly acidic, even rocky soils.
Related Questions
Where do you begin once you've selected your preferred grass type? First, you'll want to add topsoil. Spreading topsoil approximately six inches thick on top of the sand will help the grass seed or sod develop a deeper root system thus reducing soil erosion. Before adding the topsoil, though, you'll want to clear the lawn area of any debris.
If you notice that your topsoil is dense after spreading it, use a rototiller to loosen it. Finally, add compost and high phosphorous starter fertilizer and you will be ready to spread the grass seeds. Of course, don't forget to water your lawn, but don't overwater it. Your goal in watering should be to moisten the turf and adhere the seed to the soil.
How do you maintain a sandy soil lawn? Once the seeds start to germinate, you'll want to feed your lawn again. Adding compost will help increase your lawn's drought tolerance. Add the compost once a year for the first few years to help the root system retain water as well as provide nutrients and microbes to the root system. Check the required pH balance for the type or types of grass you are using and adjust the soil as needed.
Also, make sure to reapply the grass seed or sod during the fall and spring immediately following planting. When it comes to watering your lawn, make sure to check recommendations as the amount of water needed will vary depending on the type of grass you select.
Are you still looking to learn more? Find great lawn tips here!