6 Ways to Get Rid of Crabgrass in the Summer
There's nothing better than sitting on your front porch in the summer overlooking your freshly-cut lawn. However, this great moment can suddenly be cut short when you see a patch of crabgrass ruining your lovely lawn. Crabgrass is a pesky weed that is also known as "finger-grass," since the blades look like fingers. This is a common lawn pest that plagues many yards, lawns, gardens, and pastures.
So, how do you get rid of crabgrass in the summer? Here's a list of ways you can prevent or get rid of crabgrass:
Fertilize Your Lawn Regularly
Use Crabgrass Preventer on Your Lawn
Make Sure Your Lawn is Getting Enough Water
Raise Your Mower Blade
Use Herbicide on Existing Crabgrass
Pull the Crabgrass Out By Hand
Crabgrass can quickly take over your yard if you don't halt it in its tracks. Crabgrass dies each fall, which gives you the chance to start preparing for next summer and preventing crabgrass ahead of time. Keep reading to learn how you can get rid of crabgrass and keep it away!
Fertilize Your Lawn Regularly to Prevent Crabgrass
Crabgrass is a weed that can thrive in environments where your grass struggles to survive. Crabgrass thrives in arid areas void of the proper nutrients that plants need to grow. If the soil that supports your lawn doesn't have the proper nutrients, you may have a spotty yard with patches of crabgrass.
If you want to keep crabgrass away, you should regularly fertilize your yard throughout the summer season. From the Spring until the plants die away in the Autumn, you should fertilize your lawn every 6-8 weeks. 
Lawn fertilizer will feed your soil the nutrients it needs so that it can produce a thriving lawn. Proper nutrients in the soil will deter weeds like crabgrass and dandelions from growing.
Our Recommended Fertilizers
It's important to use a quality fertilizer on your lawn. Here are some of our recommendations for lawn fertilizer:
Southern Ag All Purpose Granular Fertilizer 10-10-10 is one fertilizer that will provide you great results. This fertilizer has many of the key nutrients that your soil will need to produce a thick beautiful lawn. This fertilizer includes Nitrogen, Phosphorus, Potassium, and other minor elements.
You can purchase the Southern Ag 10-10-10 fertilizer here on Amazon.
Scotts Turf Builder Starter Food is a great fertilizer to use on new lawns. Scotts is one of the best lawn care product companies you can invest in, and their products usually bring great results. This fertilizer can be used on all types of grass and can make your lawn grow fast and thick.
See Scotts Turf Builder Starter Food here on Amazon.
GreenView 2129269 Fairway Formula Lawn Fertilizer can help you maintain the health of your lawn, especially if you live in hot arid climates. It has both immediate-release nutrients and controlled-release nutrients so that the lawn is constantly being replenished with what it needs.
Check ou the GreenView Fairway Formula here.
Lawn fertilizer can also help to cure your lawn of brown spots. To learn more, read our article Why Your Lawn Has Brown Spots (And How to Fix It.)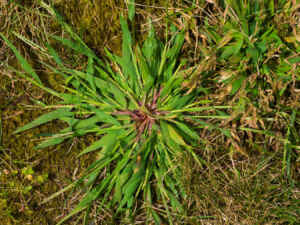 Use Crabgrass Preventer on Your Lawn
Crabgrass is known as a lawn pest since it can quickly take over and ruin your yard. Since you're dealing with a pest, sometimes you're just going to need to use pest control to get rid of it. Crabgrass preventer is the ultimate pest control you can use on crabgrass.
So, what is crabgrass preventer? Crabgrass preventer is a herbicide specifically designed to kill the crabgrass during its germination process before it's even sprouted from the ground. 
Crabgrass preventers can be found in most lawn fertilizers, so you can kill two birds with one stone: fertilize your lawn and get rid of any trace of crabgrass. However, there are some things to know before you use a crabgrass preventer.
What to Know Before Using Crabgrass Preventer
When Should You Put Down Crabgrass Preventer?
Crabgrass preventer is known as a pre-emergent, meaning that the preventer should be applied to the soil before the crabgrass has ever emerged. If it's applied once the crabgrass is established as a seedling, then it won't work. Timing is everything when it comes to when you should use a crabgrass preventer.
You should put down a crabgrass preventer in the Springtime when the soil temperature is between 50 – 60 degrees Fahrenheit. If you lay it down to early in the Spring, it may dissolve before the germination of the crabgrass. If you lay it down to late, it won't affect the crabgrass seedlings.
What Type of Crabgrass Preventer Should You Use?
Whether you're doing your own lawn care of using a lawn care service, most crabgrass preventers are easy to apply to your lawn.
Jonathan Green & Sons Crabgrass Preventer acts as a crabgrass herbicide and a lawn fertilizer all at the same time. This is a safe option to use in your yard. You can view this product here.
How Should You Put Down Crabgrass Preventer?
If you're going to use crabgrass preventer, it's important to know how it needs to be spread and used. You may spread the preventer correctly, but if you don't take the necessary follow-up steps, you may not be able to get rid of this lawn pest.
Most crabgrass preventers can be spread in a normal fertilizer spreader. Once it's been spread, you should water your lawn to encourage the preventer and fertilizer to soak into the soil. If you don't do this step, then your crabgrass preventer will just sit on top of the soil and not do its job.
Make Sure Your Lawn is Getting Enough Water
Crabgrass and other weeds thrive in arid environments. Most weeds don't need much water in order to grow and flourish. One easy fix you can make to keep crabgrass out of your lawn is to regularly supply your lawn with the water it needs.
How often you should water your lawn to varies depending on the climate you live in and the rainfall you receive each year. Ideally, your lawn should receive 1″ of water a week to keep the grass healthy and keep away unwanted weeds. 
Watering your lawn regularly can keep your grass flourishing and hold crabgrass at bay. If you live in a climate where you receive a lot of rain, then this step may not be necessary, but if you live in an area that is arid and hot, it's important to come up with a watering schedule for your lawn.
Click here to read our article about making your lawn drought-resistant.
Use Herbicide on Existing Crabgrass
Herbicides are designed to kill plants by an application. Some herbicides target only specific weeds and plants while other herbicides will kill any plant that it is applied to. Because of this, it's important to choose a herbicide that will kill the crabgrass in your yard but not your grass.
Crabgrass herbicide can come in a number of forms and be spread a number of ways. There are crabgrass herbicides that come in a spray bottle that you would just spray on the crabgrass, or there are herbicides that come in a fertilizer bag and you spread like fertilizer.

Pull the Crabgrass Out By Hand
you don't mind hard labor, another option for removing crabgrass is by pulling it out by hand. This can be hard and backbreaking work but it is effective. Be sure you wear gardening gloves so that you don't cause injury to your hand.
Another good tool to have if you plan on pulling the crabgrass out by hand is a shovel. You can use your shovel to dig up the roots of the crabgrass so it's easier to remove.
Even if you remove all the crabgrass by hand, it doesn't mean that it won't come back. Crabgrass spreads rapidly, so if you had crabgrass in your yard, chances are there are seeds in the soil. Practicing good lawn care methods and fertilizing and watering your lawn regularly will help keep crabgrass away.
I hope this article was helpful to you who want to keep crabgrass away! Another lawn pest you may have come across is mushrooms. To know more, read our article Why Does My Lawn Have Mushrooms? Complete Guide.