The 5 Best Fescue Grass Seed
Fescue grass seed is a type of grass seed that can thrive in cooler climates and shady environments. It grows quickly, making it ideal for lawns that need to be filled thickly with grass in a short period of time. Also, fescue grass requires little maintenance once it's established and its blades are fine enough to provide a lush, luxurious look. So, it's no wonder why it has become so popular! However, due to this popularity, there are many different options for fescue grass seed in the market. So, what is the best fescue grass seed? 
Here is our list of the five best fescue grass seed: 
So, now that you have an idea of what the best fescue grass seed options are for your lawn, let's take a closer look into all of these different options. But, before that let's look at the benefits of fescue grass and the things to consider before you buy fescue grass seed. So keep reading to find all of this out and more!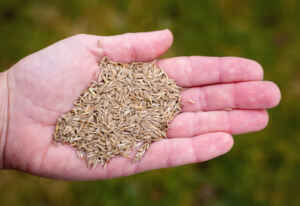 Benefits of Fescue Grass
Fescue makes an ideal choice for lawns located in colder climates where other types of grass may not survive the winter months. It also does well in shadier areas, although it will require more water than if planted in full sun. If your lawn has partial sunlight throughout the day, fescue is an excellent choice since it needs less direct light than other kinds of grass.
Fescue is also known for its tolerance to drought and heat, making it an ideal choice for lawns located in areas that experience both warm temperatures and dry climates. It's a great option for those looking for a low-maintenance turfgrass to add to their yard since it does not require frequent mowing or other upkeep.
Things to Consider
For successful fescue grass seed maintenance, there are a few important things to consider. The amount of water your lawn needs depends on the season and the climate. In winter months, fescue grass requires less water and can usually get by with an inch or two per week. During the summer months, however, more frequent watering is necessary in order to keep the soil moist and promote healthy growth. Generally speaking, it's best to give the lawn about one inch of water per week during these times.
Frequent and deep watering helps ensure that the roots have access to moisture which encourages healthy root development. However, too much water can be damaging as it can cause disease and encourage weeds to grow. Making sure you water the right amount will help you maintain a healthy, lush lawn.
Mowing is another important component of fescue grass maintenance. It should be done regularly and at the correct height–about two and a half to three inches for best results. The mower blades should also be sharpened in order to ensure an even cut and to avoid damage to the grass blades. Finally, make sure to mulch or collect clippings after each mow as this can help retain moisture in the soil and reduce weeds from taking root.
So, proper maintenance of your fescue grass requires regular watering during summer months and moderate watering during winter months, along with consistent mowing that is kept at an appropriate height. By following these tips, you can keep your lawn looking healthy and lush.
The Top Fescue Grass Seed: 2023 List
Fescue grass seed is the ideal choice for anyone looking to create a lush and luxurious lawn without the hassle of maintenance. Whether your environment is cold or hot, dry or wet, fescue can provide you with a thick and hardy turf that will last for years to come. If you're ready to start creating your dream yard, then don't forget to click one of the links below to be immediately directed to amazon.com where you can quickly and easily complete your purchase by simply clicking the "add to cart" button and signing in! Let's take a look at this list of the best 5 fescue grass seeds!
Scotts has created the perfect mix of mulch, grass seed, and fertilizer designed to help you grow lush green grass in any area imaginable – even high-traffic areas or deep shade. Its exclusive blend utilizes an advanced water-absorbing technology that expands around each seed giving them a protected layer while providing up to 6 times its weight in moisture! Fertilizer with controlled-release tech nourishes the budding seeds so they can quickly take root and flourish, all thanks to Scott's innovative tackifier which keeps everything firmly rooted no matter how hard it rains.
Super great. –
It actually worked for bad patch's in my lawn and stronger than my normal grass.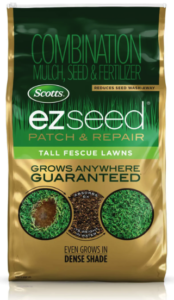 Enjoy a deep green lawn that looks lush and vibrant all season long with Pennington Rebel Tall Fescue Mixture Powder Coated Seed. This cool season, aggressive perennial bunchgrass will give you an even, thick turf as it matures – providing your yard with a richer color than Kentucky-31 or other tall fescues!
Review: 5.0 out of 5 stars – Best Fescue Grass Seed For Sothern States
Grows really green and has deep roots to survive drought, sunlight, and foot traffic. Follow directions for planting it and you will not have to re-seed every year. Grows best in shade with occasional watering. It will not invade Bermuda grass. It only grows where you plant it. Easy to use and looks great after a few weeks. It will not die out like the cheap stuff. Getcha Some!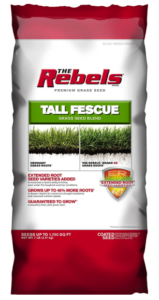 Check Price
Enjoy a lush, deep green lawn that stands up to drought and resists disease with this 7-pound bag of exclusive grass seed. With Pennington Pekoe technology for superior plant growth, it covers 1750 square feet while helping you save 30% more water each year than regular grass seeds! A cool-season perennial bunchgrass blend grows uniformly across an adaptive range of soils – even those poorly drained – in as little as seven days and requires less mowing time than other fescues. Enjoy ease and beauty all growing season long!
Review: 5.0 out of 5 stars – Looks Beautiful a year later
The best seed I've ever used! It came in full in less way than 2 weeks with the recommended amount put down (I added Pennington starter fertilizer too). Nearly 1 year later it looks fabulous and outgrows my other grass even in this Minnesota drought. The Pennington is on the left side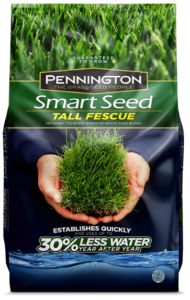 Grow the perfect lawn with Black Beauty Grass Seed Mixture! This 5 Lb bag is ideal for improving an existing or establishing a brand new lawn. The Tall Fescue in this seed will take root even better than other grasses and can withstand tough conditions, like hot sun, deep shade, and poor soils–whether it's clay or sand. Plus, its drought resistance makes sure your lush green yard stays that way no matter what weather comes along!
Review: 5.0 out of 5 stars – Seed germinated in under ten days
I purchased Johnathan Green grass seed based on a comment on youtube. It worked and came in fast.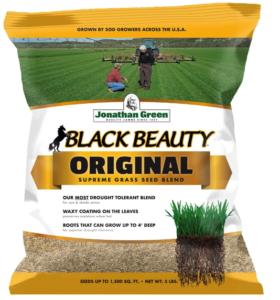 Black beauty tall fescue and perennial ryegrass make a dynamic duo of hardiness, providing your lawn with quick coverage for high-traffic areas in need of extra protection. Not only is this mixture resistant to abrasion, but it's also naturally insect repellent – ideal for locations where children or pets are playing!
Review: 5.0 out of 5 stars – Best grass seed for dog owners
We have several dogs so it is a major challenge to keep grass growing. This is the best. Fast growing and not a lot of maintenance.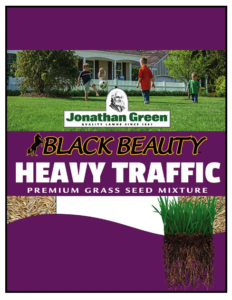 Conclusion
Overall, fescue is an excellent choice for those looking for a thick, lush lawn without the hassle of constant maintenance. Its rapid growth rate makes it perfect for filling bare patches in your lawn quickly, while its hardy nature ensures it can withstand even extreme weather conditions like cold winters and hot summers. Whether you're looking to fill out shady areas or create durable turf in a colder climate, fescue is a perfect choice. Thanks for reading!